The family owned and operated Commercial Sweeping, Inc. has served the Greater Salem community for over 40 years.
We're building on four decades of experience.
Commercial Sweeping has been in business since 1968. As you might imagine, during that time we have gained extensive knowledge in how to do power sweeping right. Our experienced sweeping team knows how to provide you with state-of-the-art service and technology.
The management philosophy of Commercial Sweeping, Inc.
We take great pride in servicing our clients throughout the Greater Salem area. You deserve the best and we guarantee all of our work. We pledge to continue to build consumer loyalty and maintain the strength of our company with hard work, integrity and oustanding service.
---
The Commercial Sweeping Team is informed and involved.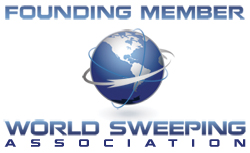 Commercial Sweeping is a Founding Member of the World Sweeping Association (WSA). The WSA is the power sweeping industry's leading information and professional resource. Our membership provides us with the tips, techniques and ongoing information that allows us to keep our sweeping methods in the top echelon.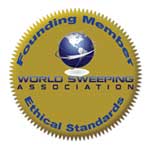 To qualify for WSA membership, Commercial Sweeping became part of the organization's 'Ethics in Power Sweeping' initiative. That is just one of the many reasons that when Commercial Sweeping employees are on your property at times when you are not you can rest assured about the issues of safety and security.

To learn more about the 'Ethics in Power Sweeping' initiative, we invite you to download WSA's pdf handout using the link shown to the right; alternatively, check out the information at the WSA website.
---

We are also a member of the North American Power Sweeping Association. This membership provides us with equipment discounts we can use to keep our costs down for our clients.
If you have any questions about our company or the services we offer, please let us know. We look forward to showing our company-wide commitment to service excellence.